B A B Y - M A S S A G E - F O R - B E G I N N E R S
Babies simply love to be touched.
In fact, they thrive on it. It's a critical part of growth and development. All that skin-to-skin contact not only helps you and your baby
bond
, it can comfort your baby when he's upset and sometimes ease the symptoms of colic. This simple six-step
"I Love You" massage
can help you get started.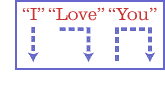 All the steps are shown below for easy printing. You can also look at
the slide show version
to see the same steps.